Golden Cross Pattern
The golden cross is a technical chart pattern that traders look for that shows a relatively short-term moving average crosses above a long-term moving average. When this is seen it is an indicator that there may be a bullish breakout about to happen.
In the world of trading, technical analysis is a key facet. This involves looking at the price charts of an asset and determining if there are any patterns emerging that could point towards expected outcomes. Technical analysis has been honed over many years, but is just starting to become key in cryptocurrency trading.
When it comes to the Golden Cross pattern, traders will get very excited if it emerges as this is a sign that a potential major rally is about to occur. The Golden Cross can be contrasted with a death cross indicating a bearish price movement. The Golden Cross appears on a chart when an asset's short-term moving average crosses above its long-term moving average.
Taking into consideration a short-term moving average (such as the 15-day moving average) and its move above a long-term moving average (such as the 50-day moving average) is the first sign of a bull market with the Golden Cross pattern. It can be further reinforced if there are also high trading volumes that follow.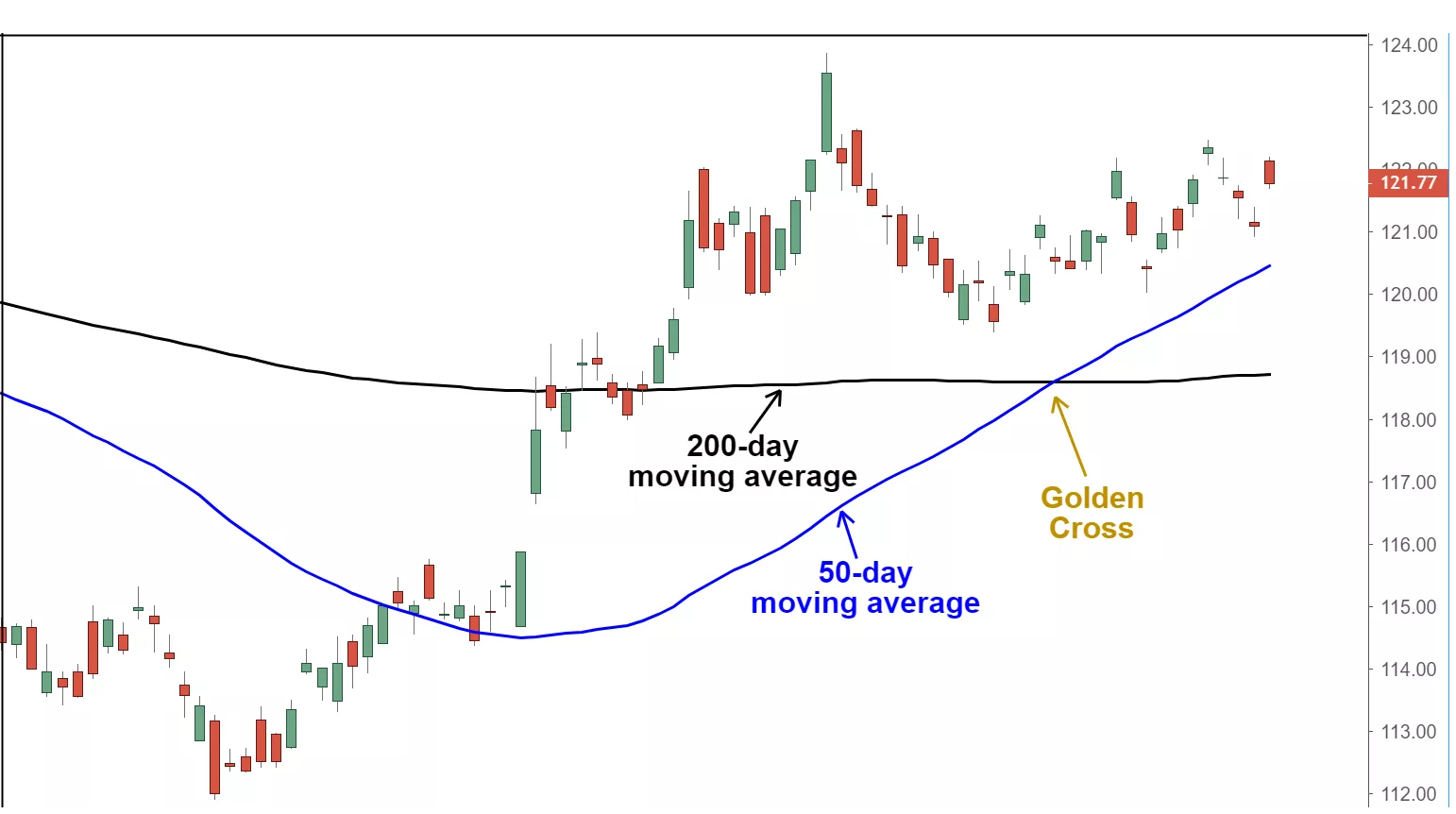 However, for a Golden Cross pattern to emerge is not a simple chance of luck. In order to see the short term moving average overtake a long term moving average takes three steps.
The first step to achieving a Golden Cross on the charts requires that a downtrend that eventually bottoms out as selling is depleted. Following that, for the second stage, the shorter moving average needs to form a crossover up through the larger moving average to trigger a breakout and confirmation of trend reversal.
Finally, the last stage is the continuing uptrend for the follow through to higher prices. The moving averages act as support levels on pullbacks until they crossover back down at which point a death cross may form.
The death cross is the opposite of the golden cross as the shorter moving average forms a crossover down through the longer moving average.
While there are a few places this cross can develop, the most common lines taken are the 50-period and the 200-period moving average. It is also the case that bigger time periods can lead to bigger and longer lasting break outs.
That being said, smaller time periods, often used by day traders, can have the same effect just on a smaller and less impactful level. Periods like the 5-period and 15-period moving averages can also be used to trade intraday golden cross breakouts.
It must be remembered that even if a Golden Cross pattern does emerge, all indicators are lagging and none can truly predict the future price action of an asset or crypto. Golden Crosses have been witnessed before only to be a false signal. Golden Crosses also do regularly fail to manifest, so they should be rather confirmed with other signals and indicators before going all in on the assumption of an impending bullish breakout.